We are busy making the final  preparations towards our Festival on Sunday 18 August. This will take place in Tower Gardens, opposite Greyfriars Art Space. 43 St James Street, King's Lynn, where we will be promoting local artists and performers and raising money for 'The Benjamin Foundation' King's Lynn.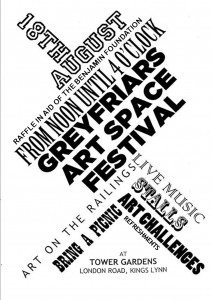 The Festival starts at 12 noon and continues until 4pm. There will be lots of things going on during the afternoon, including art on the railings and artist's stalls, art challenges for both adults and children, together with a bronze casting demonstration. There will also be a ceramic sculpture demonstration and hot drinks available in Greyfriars Art Space.
In addition, there will be live performances. We have invited local performers from previous years – Joe Reed, Amy Bone, Primakova, Lee Colville an Diane Moules, as well as welcoming new acts, including young musicians, modern ballet and poetry readings.
The proceeds from of our raffle will be going to 'The Benjamin Foundation', who will also be running a refreshments stall for us this year.
WE ARE IN NEED OF SOME MORE RAFFLE PRIZES. If you have anything you could donate, that would be great!!!
COME AND JOIN US ON 18 AUGUST FROM 12 NOON – 4PM…..BRING A PICNIC AND ENJOY AND AFTERNOON IN THE PARK!! ADMISSION IS FREE
If you would like to book a space for a stall, art on the railings or to give a performance, please contact us via our website, by calling us on 0751 714 7444, or our facebook page
This is a free event, however donations towards our costs would be appreciated