BRONZE 4
Vicky and Kabir Hussain, both sculptors and members of Greyfriars Art Space, have invited eighteen sculptors from around the country to take part in BRONZE 4, an exhibition running from 10th to 24th June at Greyfriars Art Space.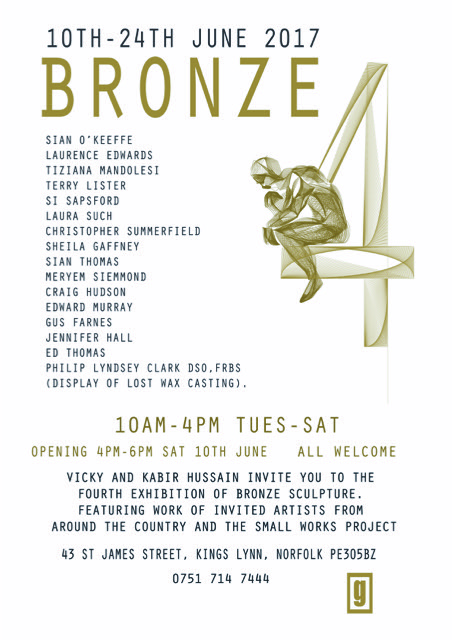 All the sculptors involved use the process of 'Lost wax' casting.  Some using the method as a way of reproducing a work made from a medium such as clay or plaster, whilst others, often 'master' bronze casters, work in a more direct way with the process and the bronze.
The sculptures are diverse; a massive brooding head by Laurence Edwards, some direct casting of leaves by Jennifer Hall and a drawing of a boat by Si Sapsford glides across the gallery wall.
In addition, twenty-five artists have produced small waxes, which have been cast into bronze for Vicky's 'wax to bronze' project.  This was on the theme of 'Netsuke'.  The small bronzes will be on display in the gallery.  The 'wax to bronze' kits proved popular and will be available at the gallery.
Also on show is a display of a restoration project of 'The Road' by sculptor Philip Lindsey Clark DSO FRBS (b.1889 d.1971) with kind permission from the Clark family.
The opening of the exhibition will be on Saturday 10 June from 4-6pm.
Bronze 4 will then continue until Saturday 24th June, when the gallery will be open from 10am-4pm Tuesday-Saturday.
(If you are unable to make the opening times and would like to view the exhibition, please contact Vicky via greyfriarsart@gmail.com to arrange an alternative time.)
Everyone is welcome to visit. Admission is free at
Greyfriars Art Space, 43 St James Street, King's Lynn, PE30 5BZ