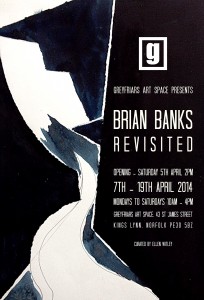 BRIAN BANKS REVISITED..…..An exhibition curated by Ellen Witley – illustration, BA (Hons), who was the winner of the Greyfriars Art Space prize for the most promising student at The College of West Anglia in 2010.
Printmaker, Ellen has been working with the large collection of Brian Banks (1939-2011) paintings, small drawings and prints, which have been bequeathed to us. She has selected a range of work from the collection for this exhibition.
   'From nudes and landscapes to more abstract and ambiguous pieces,   the range of works shows many  sides of Brian Banks. The darker ones  are the that I find I am drawn to.' (Ellen Witley, 2014)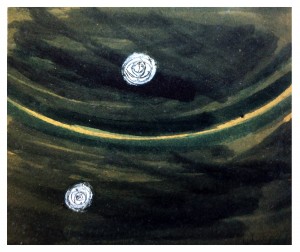 We are also using this opportunity to promote a new website, which will be an archive of Brian Banks' works. This is in the process of being developed, with the support of Sam Clark, website designer from CLK Design, who will be available at the opening of the exhibition to present a preview of the new site.
Open:  7 – 19 April    10am – 4pm    Monday to Saturday
Preview:  Saturday 5 April    2 – 6pm
Greyfriars Art Space,  43 St James Street, King's Lynn