8-22 November ……Monday-Saturday….10am-4pm
An exhibition of constructed textiles by Margaret Kennedy, designs in wood by Keith Swainson and
graphic-orientated paintings by Alan Schmidt.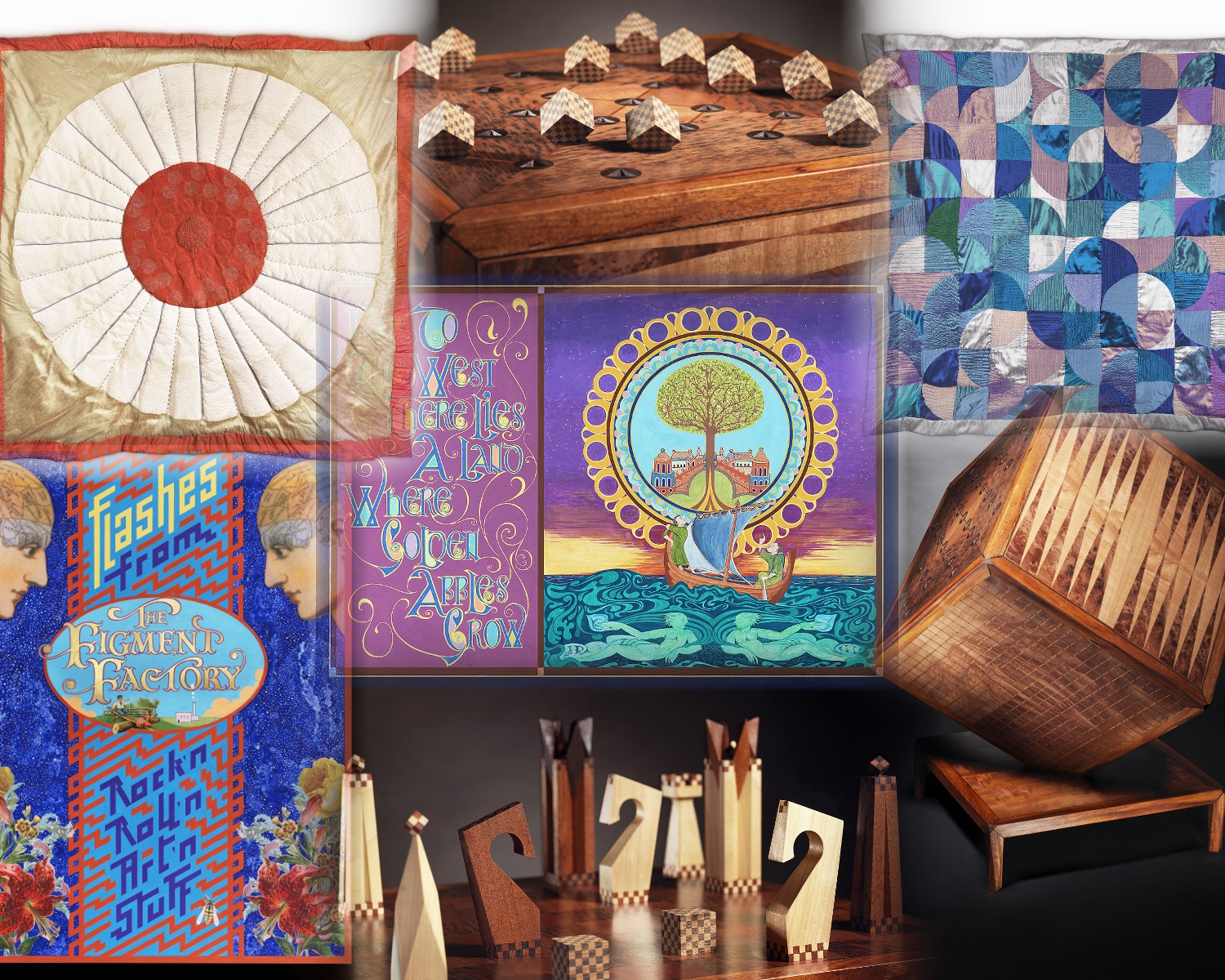 Margaret Kennedy:
Last exhibited her work in the highly successful 2013 'Fields of Vision', where her stunning constructed textile work provided a memorable large-scale focal-point to that exhibition.
"…wonderful quilts amongst lots of brilliant works." – one of dozens of admiring comments on her work  from visitors.
"My recent influences and inspirations are taken from nature and the sea.  Two years ago I was inspired by intricate drawings of single-celled organisms that have existed for over five hundred and seventy million years. This year I have started a series of quilts, runners and small framed artworks on perspectives in nature, especially influenced by my local North Norfolk landscape".
"My work is predominantly in silk, a challenging but rewarding medium in terms of shade, colour, texture  and its particularly tactile qualities.  Both light-weight and practical, every piece of textile art I make is unique, involving a degree of free arm machine work and hand embroidery impossible to".
Keith Swainson:
also exhibited in 'Fields of Vision', and is currently showing at Wing Gallery in East Sussex.  Greyfriars now presents an opportunity to view the extraordinary design and craft skills of a unique creative original. "…inspirational work…there are still master craftsmen…"
In his own words: "I have always had an affinity for wood:  every cut revealing a new vista of creative possibilities. Whether derived from boatbuilding in Papua New Guinea, design-led joinery in the USA, teaching carpentry and joinery on the Zanzibar island of Pemba or furniture design and making in Tasmania, I am now applying that accumulation of experience and skills to the realisation of my contemporary work in North Norfolk".
Alan Schmidt:
With a background as an award-winning Art Director, a Senior Lecturer in Visual Communication in the UK and NCAD Dublin, and, latterly, one-man shows of his paintings in Maryland USA and North Norfolk:  "'A designer who paints' is as good a description as I can manage!".
"My largely graphic-orientated paintings are an eclectic combination of hand-lettering, art-historical plunder and colourist illustration, inspired – amongst innumerable other things – by manuscript illumination, classic travel posters, tin toys and a bit of Dadaist subversion where least expected".
A 2013 commission from the University of East Anglia for a limited edition lithograph  to mark its 50th Anniversary marked a personal full circle for a designer whose memorable silk-screen posters were an iconic and much-collected part of the late 60's and early 70's Norwich scene.
In addition to exhibiting regularly, he curates the biennial 'Fields of Vision' exhibition in the magnificent surroundings of Our Lady St Mary, South Creake, one of Norfolk's finest medieval churches.
Find Silks, Sable, Silva on Facebook.