BellArtL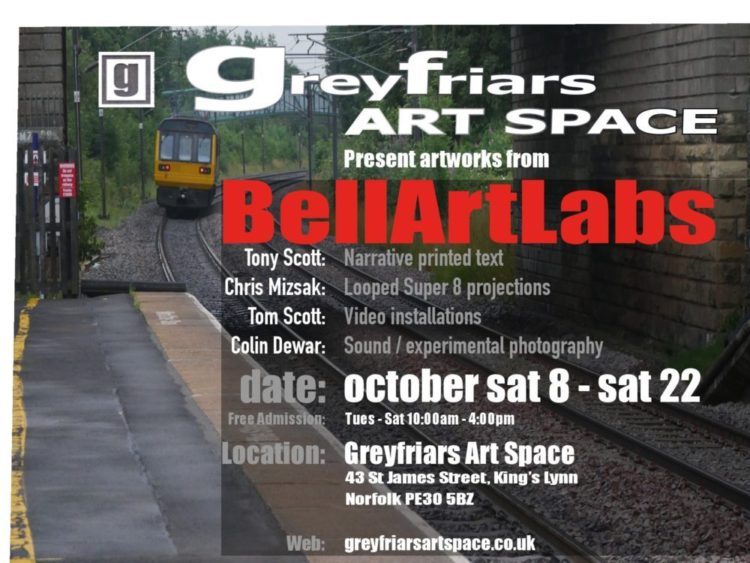 abs
Continued Explorations – New and Ongoing Works  
Sat 8 – Sat 22 October 2016
Exhibition opening event:  Sat. 8 October 6-8pm
Everyone is welcome   Admission is free
Greyfriars Art Space, 43 St. James Street, King's Lynn, Norfolk PE30 5BZ        
BellArtLabs is an independent multidisciplinary arts group whose practice encompasses moving-image, sound, text, installation, and performance. The two-week show will act as a testbed for the development of new and ongoing artworks.
Over the course of the exhibition, Chris Mizsak will be experimenting with Super 8 mm looped film projections of personal and found footage to create moving portraits and landscapes. Tom Scott will be presenting wall mounted digital video works in an ongoing series exploring his life and travels on the East coast of England. Presented as a series of printed texts on Indian rag paper, Tony Scott presents a nonlinear narrative about his father's last sea voyage to Australia. Artist and inventor Colin Dewar's work combines audio recordings using homemade hydrophones with photographic experiments of local fen landscapes.
About
BellArtLabs was formed in 1996 as a moniker for its three founding artists, Tom Scott, Chris Mizsak and Tony Scott. Through a process of research and dialogue—often over long periods of time—synergies are explored, and a cross pollination of concepts occurs, which develop into collaborative presentations within a gallery-based setting, or as digital artworks and live performances. Past exhibitions have been presented in Huddersfield, Hull, and Lubin, Poland. The group also participated in the 5th Cambridge International Super 8mm Film Festival (2011), and Flicker: Artists & Super 8 at Smiths Row, Bury St. Edmunds, Suffolk (2013).
  BellArtLabs
Chris Mizsak – Since the late 1980s Chris Mizsak has been exploring the aesthetic and alchemical qualities of the Super 8 mm film format through an ongoing practice, which often combines expanded cinema, installation, performance, sound, and music. A member of the Cambridge Super 8 Group since 2010, he has actively been involved in preserving analogue filmmaking as an art form through screenings, festivals, and workshops. In collaboration with Smiths Row in Bury St Edmunds, Chris co-curated Flicker: Artists and Super 8 in 2013—a major art-film exhibition showcasing international artists past and present who have worked with the format. Chris will be creating new works in the gallery using looped film projections. Whilst the appropriation of found home-movie footage provides a socio-historical context, it also proffers the deeper notion of something lost, rediscovered and recontextualised. Chris collects discarded films, and gallery visitors are invited to contribute to the work by donating old film reels. Chance plays an integral role in his approach. Chris often leaves projectors running, allowing the film loops to run until they jam and tear; frames burn and disintegrate. A work may change or end completely when the image has degenerated to such an extent that it is no longer projectable.
NOTE: Due to the temperamental nature of old equipment, there may be periods of time when visitors will not see any projections.
Contact Chris – cmizsak@gmail.com        facebook.com/bellartlabs/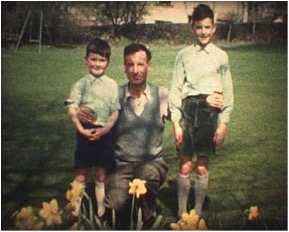 Still taken from: Standard 8 mm Cine Film –
UK MIDDLE CLASS FAMILY 1961 DATED COLOUR KIDS HOLS, ETC.
"Amateur one of a kind cine film. Copyright is yours. A middle class family reel dated to 1961, garden, children, springtime, school sports, cycling, pets, beach, lighting a bonfire. Happy days! I was 12 years old at that time! Whoopee for 1961! Take me back now."
The above title and description are taken directly from the eBay listing.
  BellArtLabs
Tom Scott – After completing his BA (Hons) Fine Art Film in Hull, Tom was part of a group of artists, theorists and musicians who formed the collective Hull Time Based Arts (HTBA) in 1984. For over two decades HTBA contributed a unique dynamic to the art world—both on a local and international level—impacting on many people, both artists and spectators. Tom was both treasurer and a committee member until the mid-1990s when he left to pursue an MA in Art and Design at the University of Lincolnshire & Humberside. He has subsequently lectured in multimedia, animation and audio. Tom's artworks have been shown at Tate Britain, Dean Clough (Halifax), Lovebytes (Sheffield), and Wro Festival (Poland). He is currently working on a series of works exploring his life and travels on the East coast of England, from Northumberland down through Lincolnshire to the Walthamstow Marshes. At Greyfriars he will be presenting three video vignettes titled, St Mary's: Postcard View, Moments and Gibraltar Point. The video works—presented as random looped playback digital reworkings of Super 8 film, stills, sound and animation—will be accompanied by a series of audio pieces titled North, South, East and West. A fourth video work is derived from Super 8 footage created by participants at a Super 8 workshop delivered by the Cambridge Super 8 Group in 2015 for Impossible, a social media sharing initiative started by model-actress Lily Cole. Whilst using similar production methods the work holds a different idea – of working with the materiality of the image, both analogue and digital.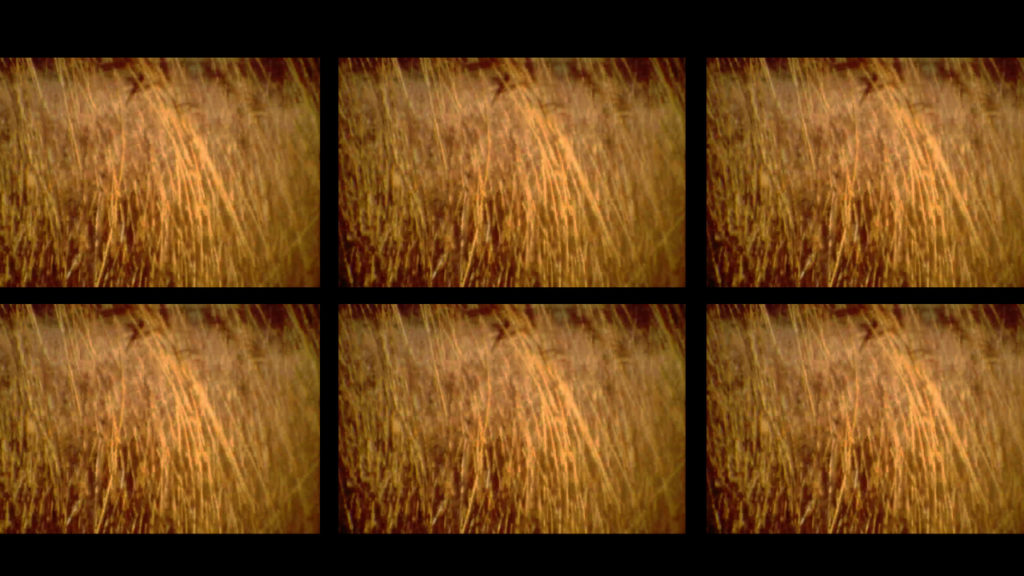 Still taken from St Mary's: Postcard View (2013)
  BellArtLabs  
o    
Tony Scott – Tony Scott is an artist and writer based in Northumberland. In a practice that often employs a combination of film, video, photography, text, and sound, Tony's work takes a slender glimpse of the worlds in which we inhabit. He presents us with narrations; stories that weave their way through copious, layered landscapes, which emerge as singular embodiments of a vision offering a momentary glimpse of that which is held close; subjects rarely raised; desires of desires; a world—in part fiction, in part truth—made up of composites of disembodied zones. At Greyfriars Tony is presenting Oh! Australia, I've Not Been There—a nonlinear narrative made up of metaphors and symbols of his father's last journey on the sea to Australia—and his relationship to that ultimately unknown adventure. The work will be displayed as a series of framed texts, printed on Indian rag paper using American Typewriter font—a reverence for the 1950s. Tony's work has been presented at the ICA (London), Ferens Gallery Live Art Space (Hull), and KinoFilm Festival (Manchester).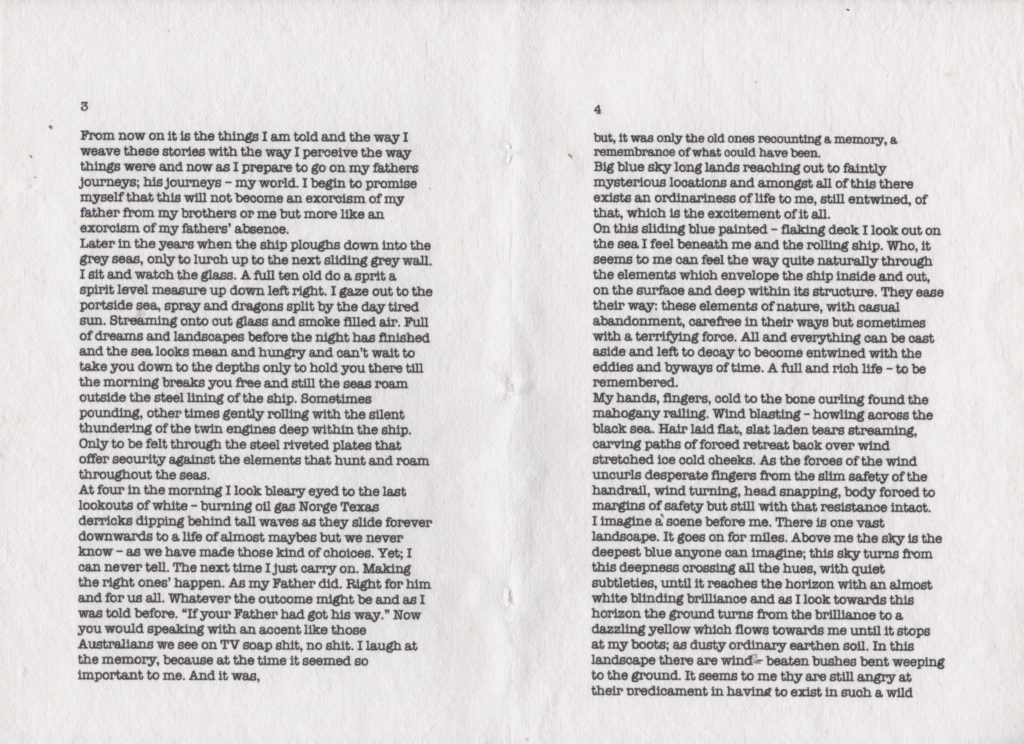 Extract from: Oh! Australia, I've Not Been There (2016)
  BellArtLabs
Colin Dewar – Colin Dewar is an artist, filmmaker and inventor. His creative practice explores his fascination with automata and analogue electronics to create interactive light and sound installations. His short films often employ the Straight 8 competition rules of 'one film cartridge, one-take, edited in-camera.' His Super 8 shorts Everything But (2008) and Lux Flux (2011) are both highly regarded; the former featured in a selection shown at Cannes. A featured artist in Flicker: Artist and Super 8 (2013) at Smiths Row, Colin installed his Random Art Generator, a modified Super 8 projector incorporating inkjet technology and microcontrollers, which dispense droplets of ink directly to blank Super 8 film, thus creating abstract projected film art. In 2014, he presented Kairos, a site-specific light window installation at John Lewis in Cambridge as part of the e-Luminate festival. In partnership with US-based green tech innovators Fusion Optix, Dewar produced randomized sequences of flashing lights, which occasionally displayed the correct time as a digital 24hr clock face. At Greyfriars Colin will be exploring local fenland landscapes through a series of 6 photographic artworks printed on aluminium, accompanied by a sound mix made up of hydrophone audio recordings.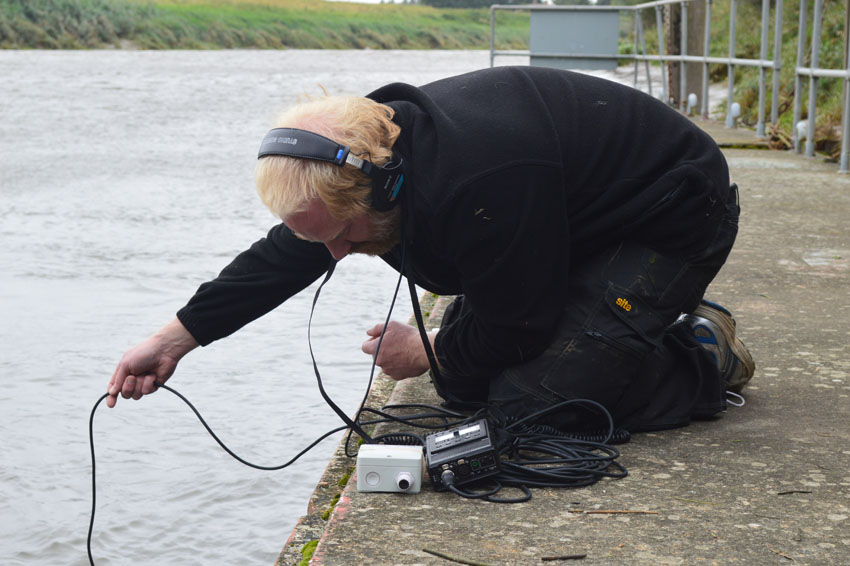 Colin Dewar recording underwater sounds at Denver Sluice Complex (September 2016)
Acknowledgements
BellArtLabs would like to thank the committee and all member volunteers of Greyfriars Art Space, in particular Gallery Coordinator Kathy Cossins. Thanks also to all those who have provided support, including Richard Matthews of Mile Tree Brewery, Dan Pollard, Environment Agency Superintendent at Denver Sluice Complex, Tony Clarke, Cambridge Super 8 Group, Jo Ledamun, James Murray-White, and Kieran Guy Delaney, to name but a few.